Images from the United States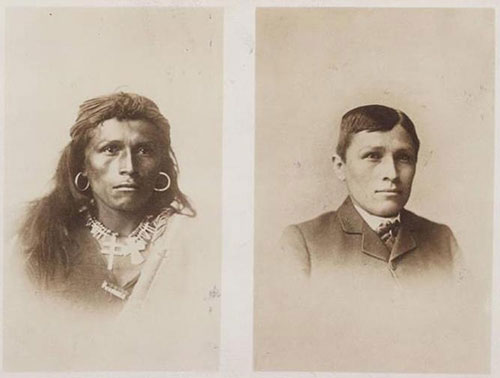 Tom Torlino, a Navajo man, transforms his look at the Carlisle Indian Industrial School in Pennsylvania, 1882.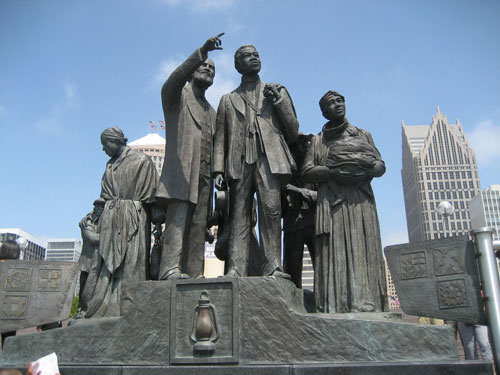 This sculpture by Ed Dwight is located in Hart Plaza in Detroit, Michigan. It is an international sculpture commemorating the Underground Railroad, which helped African Americans escape slavery during the period before emancipation in the United States. The African Americans memorialized here are on the banks of the Detroit River looking into Canada where they will find freedom.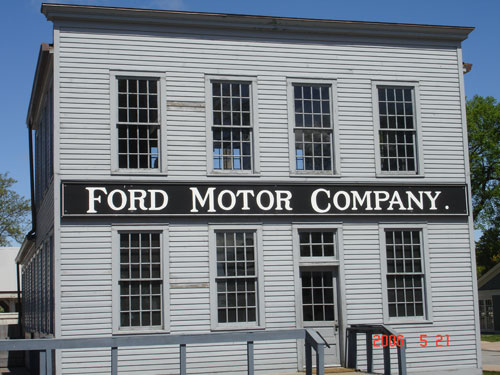 This is a replica of an early building housing the Ford Motor Company. Under the direction of Henry Ford, this company would revolutionize the world by mass producing and selling cars. This replica building is in Greenfield Village, Dearborn, Michigan.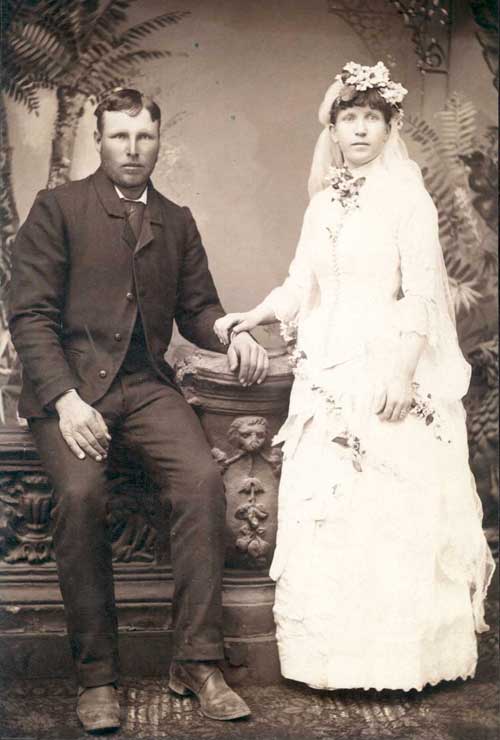 American Wedding Photo, rural United States, 1880s.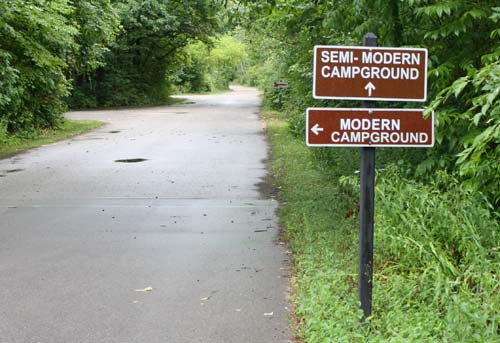 Warren Dunes State Park, Michigan.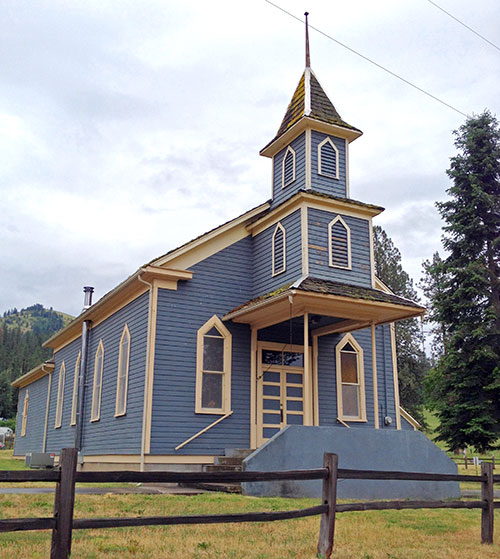 First Indian Presbyterian Church, Kamiah, Idaho. This Church was organized in December 1871 and is the oldest continuously used church in Idaho. In 1831, a delegation of four Niimiipuu (Nez Perce Native American) men went from central Idaho to St. Louis, Missouri to request missionaries. In 1836, Presbyterian missionaries established a mission in Lapwei, Idaho and a few years later a mission was established in Kamiah.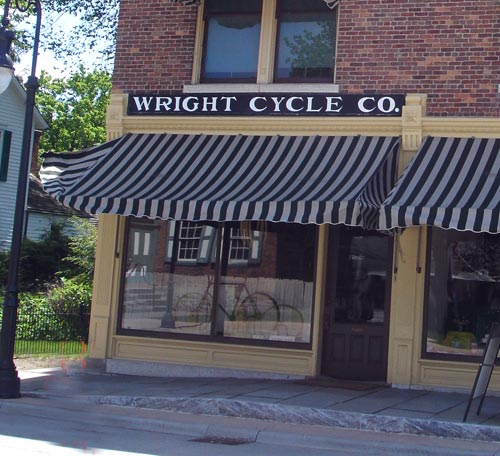 This is the bicycle shop where Orville and Wilbur Wright sold and repaired bicycles and where they worked to invent the airplane. They became the first humans to accomplish engine-propelled flight-an invention that was to significantly 'shrink' the world. This shop was moved from its original location in Dayton, Ohio to Greenfield Village in Dearborn, Michigan.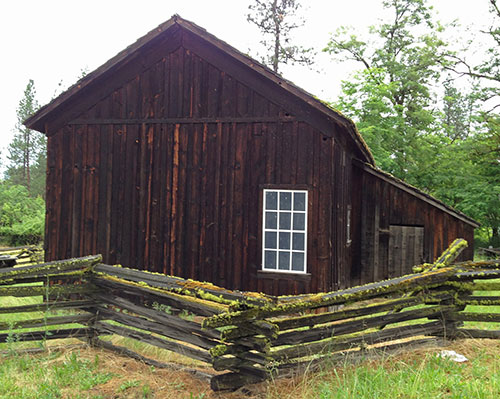 McBeth School, Kamiah, Idaho. This school was operated by Sue and Kate McBeth, 1873-1893. The McBeth sisters were Presbyterian missionaries among the Niimiipuu (Nez Perce Native American) people.
Widow and Children, United States, 1880s. This woman was widowed in her twenties with six children. The picture was taken shortly after the death of the woman's husband and one of their children.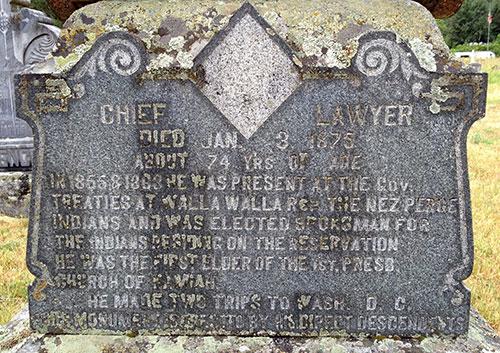 Chief Lawyer gravemarker, Kamiah, Idaho. Chief Lawyer was a Niimiipuu (Nez Perce) Native American who was born about 1800 with the Niimiipuu name of Hallalhotsoot and died in 1875. His father was "Twisted Hair", a Niimiipuu leader who in 1805-1806 helped rescue the Lewis and Clark Expedition from starvation when they descended from their ordeal in the Bitterroot Mountains, took care of the Lewis and Clark horses during the winter of 1805-1806, and guided the explorers on their way to the Pacific Ocean down the Clearwater, Snake, and Columbia Rivers to present-day Dalles, Oregon. Hallalhotsoot became a powerful orator and was named Chief Lawyer by the Whites to reflect that skill. He converted to Christianity and became the first elder in the First Presbyterian Church of Kamiah. It was said that his zeal for the ways of the white man was unflagging. He was an important Niimiipuu leader who helped foster the treaties of 1855 and 1863 that established Niimiipuu reservations and transferred the great majority of Niimiipuu land to European Americans, much to the consternation of many of his fellow Niimiipuu. The treaties eventually led to the so-called Nez Perce War of 1877 when the United States demanded the removal of the non-treaty Niimiipuu to the reservation.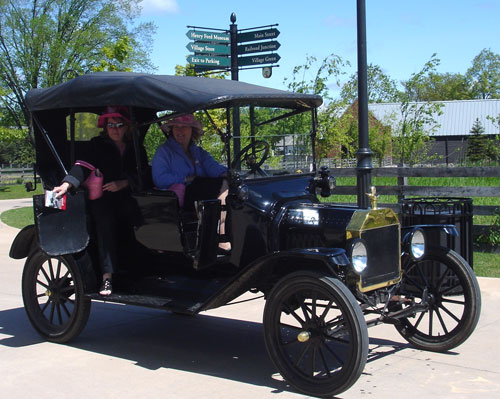 This is a Model T Ford, the first car to be mass produced. This car is on display and for providing tours at Greenfield Village, Dearborn, Michigan.
The St. Ignace Mission was established in 1671 in St. Ignace, Michigan at the conjunction of Lake Michigan and Lake Huron. The mission was established by Jacques Marquette, the Jesuit Missionary. Picture of marker taken in Fall 2006 in St. Ignace, Michigan.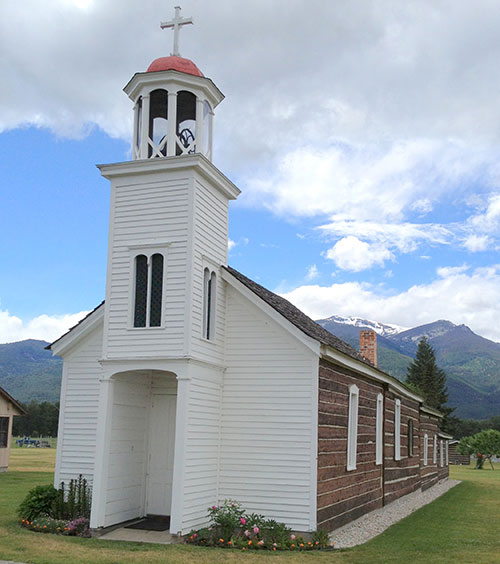 St. Mary's Mission Church, Stevensville, Montana. St. Mary's Mission was established in 1841 by Jesuit priest Pierre Jean DeSmet. Father DeSmet established the mission in response to requests during the 1830s by four delegations of Salish people (Flathead Native Americans) to St. Louis, Missouri from the Bitterroot Valley of western Montana. This church was built in stages from 1866 to 1879. St. Mary's was terminated as a Native American mission in 1891, when the Salish people were forced to move to a reservation.
Sacajawea was an Agaideka (Lemhi Shoshone Native American) woman who was born in today's eastern Idaho. She was abducted by a raiding party of another Native American group and taken to near Bismarck, North Dakota where in 1805 she, her husband, and her two-month old son joined the Lewis and Clark expedition of discovery. She was an important interpreter for the expedition which opened the American West to exploration, the fur trade, Christian missionaries, and settlement by European Americans. This statue is located in Salmon, Idaho, near Sacajawea's birth place and near where the Lewis and Clark expedition first contacted Sacajawea's people, the Agaideka.
Images from this site may not be reused for any purpose without express written permission